Let Navya take the complexity out of treatment decision making.
Our Partners
Navya partners with hospitals, academia, nonprofits, and industry to improve patient outcomes in oncology.
Tata Memorial Centre (TMC) is one of the world's largest tertiary care centers. It is the largest cancer center in Asia, serving roughly 60,000 cancer patients each year. It's goal is to provide comprehensive, evidence based cancer care and inspire national cancer care policy and strategy. It's selective oncologist network is comprised of experts known at the world stage. In addition to its patient services, TMC is a world leader in pioneering, evidence based cancer research, focusing on research which is affordable, innovative, and relevant to the needs of the country. It also provides educational services for students, trainees, professionals, and the public.
A Shared Journey
Navya's journey is intricately linked with TMC. When we first had the idea to use data and technology to empower cancer patients with information, we knew we would need the support of the best oncologists in the world. TMC, one of the world's largest tertiary care expert cancer centers, was an obvious choice. From the start, we have received tremendous support from TMC's leadership.
Since 2010, TMC and Navya have had a symbiotic relationship. Every cancer specialist at TMC serves on our expert opinion panel, and has since the beginning of our partnership. Navya is TMC's primary solution for all its machine learning and online patient services needs. We have collaborated on several research initiatives, co presented at leading cancer conferences, and co authored academic articles. Our vision aligns closely with TMC's goal to provide standardized, evidence based, scalable cancer care.
Clinical Validation Trials
TMC was Navya's research partner in the trial and validation of Navya's decision engines. Navya and TMC successfully completed a retrospective trial of Navya's machine learning based Evidence and Guidelines Engines, which validated that Navya Expert System decisions are 98.6% concordant with the decisions of tumor boards and expert oncologists at TMC. These results were presented at the San Antonio Breast Cancer Symposium in December 2014.
Navya and Tata Memorial Centre are now working on trials to validate Navya's Patient Preference Tools, which is a self-administered decision aid that helps patients assess the tradeoffs of their available treatment options using techniques like conjoint analysis.
Expert Opinion Service (with National Cancer Grid)
Navya is partnered with Tata Memorial Centre and National Cancer Grid to provide treatment recommendations from experts at these institutions to patients and caregivers worldwide. Since 2010, every specialist at TMC has committed their time to be a part of our expert panel.
Using Navya's ExpertApp, experts can respond to Navya's structured case summaries and provide their treatment recommendations. Navya also gives experts the tools to collaborate with each other remotely and asynchronously to come to a consensus opinion.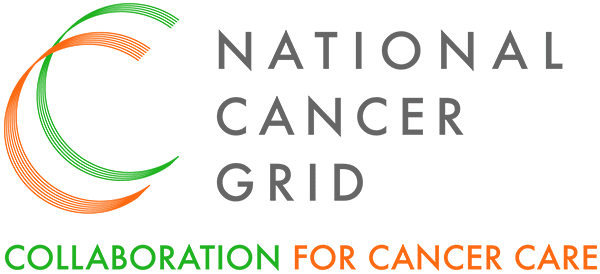 The National Cancer Grid (NCG) was formed in August 2012 with the mandate of linking cancer centers across India. A modest initiative, which originally had 14 cancer centers, has rapidly grown to include 140+ major cancer centers covering the length and breadth of the country. It is one of the largest cancer networks in the world.
Funded by the Government of India through the Department of Atomic Energy, the NCG has the mandate of working towards uniform standards of care across India by adopting evidence-based management guidelines. Navya was the flagship service used by NCG in its first initiative to standardize cancer care.
The NCG is also intended to facilitate the exchange of expertise between centers and to create a connected network of centers to facilitate collaborative research in cancer. By partnering with NCG, Navya was able to expand its expert panel to include specialists from NCG hospitals, including AIIMS, Adyar, HCG, and Max Hospital. Navya's asynchronous, online reviews give these experts the tools to collaborate on a patient's case regardless of differences in location.
The NCG has also used Navya's ExpertApp as a training tool, allowing students to learn from experienced expert opinions on complex cases.
Tata Trusts are among India's oldest, non-sectarian philanthropic organizations. Their work encompasses several areas of community development. In keeping with their strategy of harnessing technology for social welfare, Tata Trusts have supported the Navya online expert opinion service at Tata Memorial Centre. Tata Trusts play a critical role in extending Navya's reach, allowing many cancer patients to access Navya's expert opinion service regardless of their geographic location or ability to understand medical information. Support from Tata Trusts also enables Navya to lower its processing fees for patients below the poverty line.
Harvard Business School
Researchers and professors from Harvard Business School's Organizational Behavior Unit are interested in participating in Navya Network's trial on patient preferences. They plan to study the role of gender biases in decision making in matters related to the treatment of woman patients. For example, they are interested in studying the factors that impact a woman's decision to have a mastectomy (complete removal of breast) or lumpectomy (removal only of the cancerous lump in the breast), two treatments which have similar outcomes but differ in considerations mostly personal to an individual's unique context and preferences.
University of California, Los Angeles—Olive View Medical Center
UCLA—Olive View Medical Center is a 377-bed state-of-the-art hospital that serves much of the San Fernando Valley and the Antelope Valley, with outpatient clinics that provide primary care and hospital services for those who need specialty care or surgery. The facility is a national leader in clinical research to improve quality of care. The hospital has a strong affiliation with the David Geffen School of Medicine at UCLA, the 10th best school of medicine in the country as ranked by U.S. News and World Report.
Navya partnered with UCLA—Olive View Medical Center to validate the Navya expert system. Our validation showed that Navya's expert system is 98% concordant with the decisions of tumor boards and expert oncologists at UCLA-Olive View Medical Center. These results were co-presented to SACBS in 2016. We have also co-published articles in ASCO with UCLA—Olive View Medical Center in 2016 and 2017.
The National Institute of Health (NIH) Big Data 2 Knowledge (BD2K) Center is a trans-NIH initiative established to make biomedical research a viable computational research enterprise. The NIH Center of Excellence for Big Data Computing at UCLA has assembled six international investigation teams in medicine, data science, and computational biology. The BD2K initiative addresses four major goals that, in combination, are meant to enhance the utility of biomedical Big Data:
Facilitate broad use of biomedical digital assets by making them Findable, Accessible, Interoperable, and Reusable (FAIR).
Conduct research and develop the methods, software, and tools needed to analyze biomedical Big Data.
Enhance training in the development and use of methods and tools necessary for biomedical Big Data science.
Support a data ecosystem that accelerates discovery as part of a digital enterprise.
Overall, the focus of the BD2K program is to maximize and accelerate the integration of Big Data and data science into biomedical research by supporting the research and development of innovative approaches and tools.
Mahindra
Mahindra is a large federation of companies offering products and services in manufacturing, finance, hospitality, and information technology. Mahindra is a firm believer in social impact. Through initiatives under Mahindra RISE, they work to bring about social change in education, healthcare, and well being of employees and their communities.
Mahindra and Navya have partnered to raise awareness about cancer and cancer treatment options. This way, every Mahindra employee and affiliate with cancer has high quality, concierge access to experts.
Dr. Reddy's Indian Breast Cancer Resource
Navya Network developed the Indian Breast Cancer Repository (ICBR) as part of Dr. Reddy's Indian Breast Cancer Resource. Dr. Reddy's Indian Breast Cancer Resource is a collective initiative between several academic cancer centers in India to collect and make publicly available all clinical and epidemiological research about breast cancer in India.
Much of this research has either never been published (such as doctoral or postdoctoral students' theses) or has only been presented as abstracts at major conferences. The effort involves searching major conference abstracts by hand, dating as far back as 1998, and collecting theses from libraries of major academic institutions.
Medi Assist
Medi Assist is a healthcare management provider which has administered tens of thousands of claims for cancer patients from state funded insurance plans, retail policyholders, and group mediclaim policyholders. By partnering with Navya, Medi Assist can offer these cancer patients better outcomes, and ensure that insurance companies are covering cutting-edge, evidence-based treatments recommended by world leading experts.
It is of significant value to health insurance companies to know that the patients they cover receive the appropriate treatment. By partnering with Navya, Medi Assist eliminates the cost of suboptimal therapies that can result in loss of life or organ(s) or reduced quality of life and productivity.
CanKids...KidsCan
CanKids is a grassroots, nonprofit organization dedicated to granting children with cancer and their families access to the highest standards of treatment and support services. At every stage of the treatment process, CanKids provides and facilitates economic, psychological, and educational support. CanKids also partners with hospitals to provide funding and social support staff; their You Are Not Alone program delivers holistic support to families at hospitals where children are being treated for cancer. Their vision is to enable higher global survival rates, while ensuring quality of life. They have supported over 25,000 pediatric cancer patients and their families.
Through our partnership, CanKids social workers bring Navya directly to patients at their cancer hospitals. Their social workers guide families through every step of using Navya, providing services that include providing the technology to upload reports, and translating reports to patients' native language. In this way, CanKids eliminates language and technology barriers which prevent people from accessing Navya's online service.
CanKids is guided by a panel of pediatric cancer experts who provide online opinions to Navya's expert panel. Through Navya, these experts can easily collaborate with their colleagues to reach as many pediatric patients as possible.
ImPaCCT Foundation
"ImPaCCT Foundation", an acronym for "Improving Paediatric Cancer Care and Treatment", is the Pediatric Foundation of Tata Memorial Hospital. It was established in October 2010 to ensure that every child with cancer at Tata Memorial Hospital receives the holistic support they need. In addition to treatment support, ImPaCCT provides financial, educational, and psychological support. To help children living away from home, they provide support for events which include birthday celebrations, creative workshops, and outings.
A key part of support which ImPaCCT provides patients and their families is the Navya Expert Opinion. Navya gives pediatric patients and their families access to expert opinions at TMC remotely. This allows them to avoid cumbersome, expensive travel, and the need to wait in queues. By connecting pediatric patients to the best cancer experts quickly, Navya provides peace of mind for them and their families.
V Care Cancer Foundation
V Care Foundation is a voluntary support group dedicated to providing assistance, awareness, and education to cancer patients and their families through outreach programs and services that improve the quality of their lives. Their services include treatment financing assistance, nutritional support, counselling services, and palliative support.
V Care volunteers provide guidance to patients in need of an expert opinion. Because of their experience, they can effectively empower diverse groups of patients by connecting them to Navya's value and expertise.
Mangalam Charitable Foundation
Mangalam Charitable Foundation provides affordable accommodation to cancer patients receiving treatment.
They offer 60 beds to accommodate patients and caregivers, and facilities which include passenger lift, TV, drinking water, cafetaria, in house library, conference hall, and Wi-Fi. The accommodation is walking distance from Tata Memorial Hospital, (ACTREC), Kharghar.
Honda Motorcycle and Scooter India Pvt. Ltd. (HMSI)
Honda is the world's largest manufacturer of two wheelers. Recognized thoughout the world as the symbol of Honda two wheelers, the 'Wings' arrived in India in 1999 as Honda Motorcycle and Scooter India Pvt. Limited (HMSI), a 100% subsidiary of Honda Motor Company Ltd., Japan. Despite being one of the youngest players in the Indian two wheeler market, Honda has become largest two wheeler manufacturer and the second largest two wheeler company in India.
As part of its Corporate Social Responsibility program, Honda has financially contributed to provide underprivileged cancer patients with free expert opinions from Navya and Tata Memorial Centre.
Airports Authority of India
Airports Authority of India (AAI) is entrusted with the responsibility of creating, upgrading, maintaining, and managing civil aviation infrastructure in India. As part of this, AAI manages a total of 137 airports. These include 23 International airports, 10 Custom Airports, and 104 Domestic airports.
AAI's approach to CSR is to provide empowerment opportunities for underprivileged communities near their airports to create an environment of inclusive growth. As part of this program, AAI has financially contributed to provide underprivileged cancer patients with free expert opinions from Navya and Tata Memorial Centre.
Navya Technologies Pvt. Ltd.
# 35 3rd floor, Municipal Corp,
Cunningham Hallmark,
Cunningham Road,
Banglore-560052
Dr. E Borges Road, Parel,
Mumbai-400012.
Fax: +912224146937
Navya Technologies Pvt.Ltd,
No: A-3/18, Awas Regency,
Kadma, East Singhbhum,
Jamshedpur,
Jharkhand
Pin Code: 831005
To contact us from here, please fill out the form below